By Abubakar Sadeeq
searcheers@yahoo.com
Zamfara state was created in 1996 out of Sokoto state after years of struggle of autonomy during the military administration of Late Sani Abacha. It has an area of 38,418 square kilometres, it is bordered in the North by Niger republic, to the south by Kaduna State. In the east it is bordered by Katsina State and to the west by Sokoto and Niger States. It has a population of 4.5m according to the 2016 estimate census and it has 14 local government areas.
Zamfara is populated with the Hausa and Fulani peoples, the major groups of people are the Zamfarawa; mostly residing in Anka, Gummi, Bukkuyum and Talata Mafara Local Governments areas. Gobirawa populated Shinkafi Local Government, they actually migrated from the Gobir Kingdom of a blessed memory. The Burmawa are found in Bakura and Fulani people are mainly in Bungudu, Maradun, Gusau and also scattered all over the State. Also the people of Tsafe and Maru Local Governments are mainly Katsinawa, Garewa and Hadejawa. While Alibawa people are in Kaura Namoda and Zurmi Local Governments.
His Excellency Alh. Ahmad Sani Yariman Bakura emerges the Governor of Zamfara State after the coming back of democracy in 1999 under the platform of All Nigeria Peoples Party (ANPP). The Yarima of Zamfarawa's greatest achievement during his 8 years regime was the introduction of Shari'ah legal system which later was embraced by other Northern Nigeria States; Senator Yarima also promotes human development, entrepreneurship and agriculture by providing soft loan to farmers, revival of cooperative societies and entrepreneurship development. Yarima plays a vital role in the education sector by building more schools, Indeed wealth has circulated a lot due to a number of activities happening in the state, which impacted on the lives of everybody; hence a peaceful Zamfara state was enjoyed.
Senator Ahmad Sani Yarima nominated Mahmuda Aliyu Shinkafi who was his Deputy during his 8 years regime as Governor to serve as the Party's flag bearer (ANPP) for Governorship candidate in 2007 General Election with the hope that he will continue from where he stops; After winning the elections, to the greatest surprise Governor Mahmuda Aliyu Shinkafi turn the administration into different direction and finally even decamped to the People's Democratic Party (PDP), as he thought he can do it all himself, he claimed to go  into some infrastructural development that never happened.
The people of Zamfara went to Abuja and request the Yarima of Zamfarawa, Senator Ahmad Sani Yariman Bakura to come to their aid and change their Government for the better, so he nominated their Party (ANPP) Chairman Alh. Abdulaziz Yari to be the flag bearer and Malam Ibrahim Wakkala as his Deputy for Governorship Election in the 2011 General Election; It was history and jubilation everywhere in Zamfara that Yarima ousted the incumbent Governor Mahmuda Aliyu Shinkafi and Abdulaziz Yari become the Governor while Malam Ibrahim Wakkala Muhammad his Deputy.
The Shehi of Zamfarawa, as people fondly call Gov. Alh. Abdulaziz Yari began his administration successfully hiding behind the mask of Senator Ahmad Sani Yarima but he refuse give emphasis to agriculture, entrepreneurship development and education; according to Minister of Education Zamfara records the worst ever examinations results among secondary school pupils in the country. Yari made taller claims of infrastructure as well, alas much is yet to be seen, which is not much required by the people of the State at the moment.
The merger of political parties such as ANPP, CPC, CAN and others to fight the ruling party Peoples Democratic Party (PDP) in the 2015 General Elections give birth to All Progressive's Congress (APC), and that gives Muhammadu Buhari victory and emerged President of the Federal Republic of Nigeria; The Shehi of Zamfarawa and Malam Ibrahim Wakkala were also victorious for their second term of 4 years, Shehi was also elected as the Chairman Governors Forum, this position indeed contributed in making Shehi power monger, as he became close to the president Muhammadu Buhari moving from here to there leaving poor Zamfarawa to suffer of their hunger and insecurity. Suddenly, Shehi hop into an overzealous courting with Zahra Buhari (the President's dearest daughter) as he intends make her wife No.4 but Muhammadu Buhari stopped the game; only God knows the amount of Zamfarwa's money that was embezzled on uncountable foreign trips by the subject on the cause. It was gathered that Abdulaziz Yari so far is the richest Governor in the Country.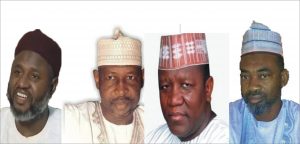 His Excellency Malam Ibrahim Wakkala Muhammad 'The Malam of Zamfarawa' he is the most humble person I ever met in a very longtime, he is a true 'Malam' which means a 'Scholar' though he is the 'Sarkin Malamai of Gusau' meaning 'The Leader Gusau Scholars' it was a traditional title he inherited; he was born to the family of a renowned Islamic scholar, Muhammad Liman on September 12th 1966 in Gusau local government,  a masters degree holder of Islamic Shari'a from Islamic University Omdurman, Sudan. Wakkala served as Commissioner Religious Affairs for the whole of Yarima's 8 year regime, he was offered the post of Commissioner again during the regime of Governor Mahmuda Aliyu Shinkafi but he rejected it and took the appointment of senior aide to Senator Yarima in the National Assembly, the position he held until he was nominated as running mate to Governor Abdulaziz Yari.
The era of Malam of Zamfarawa has virtually began before its formalization in 2019 after winning election (Insha Allah); he was not given a single portpolio in the state executive council but he is always left with a grave responsibilities due the unsurpassed absence of the governor; His Excellency Mallam Wakkala often spent upto 6 months in the state without travelling out, a record he holds throughout the country; Wakkala play a significant role in the peaceful coexistence of Zamafara state, he often go deep in the forest to reconcile peace between farmers and cattle rustlers,  up to the assassination of Buhari Daji a notorious cattle rustlers king pin; Malam recently lead a committee that seized and destroyed about 5,870 illegal arms in the state.
Malam of Zamfarawa has been living in his local neighborhood all these years; he always support the less privileged, Islamiyya schools, students, youths and many more even from his salary to alleviate the sufferings of people, he so much believe that giver always gets.
I strongly believe that Zafarawa would give Malam Ibrahim Wakkala Muhammad, Sarkin Malaman Gusau a chance, come 2019 general election, to elect him as the Executive Governor of Zamfara State, I'm sure they will never regret doing so.
Abubakar Sadeeq wrote from FCT, Abuja.